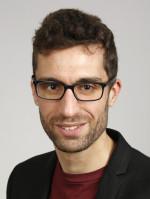 Benjamin Droguet graduated from École Nationale Supérieure de Chimie, de Biologie et de Physique (Bordeaux INP-ENSCBP) with a major in physical-chemistry. He worked within corporate laboratories on top-notch technologies and for a multi-awarded French cleantech start-up developing a new wood-based composite before pursuing his research at the University of Cambridge on the new applications offered by cellulose-based bio-inspired photonic materials within Dr. Silvia Vignolini's group.
Structural colors, unlike colors which arise from pigments or dyes, stem from the physical interaction of light with patterns at the nanoscale. Such colours can last forever without fading. While occurring abundantly in nature, structural colours fabricated with natural materials have found scarce applications.
For his PhD, Benjamin is combining nature's intelligence with advanced manufacturing technics to produce cellulose-based structurally coloured surfaces over unprecedented dimensions.