Luzchem's LZC-ORG photoreactor package is designed for organic photochemistry applications. It is configured for side irradiation, and includes a recessed magnetic stirrer, safe exhaust system and a digital timer.
Booking required!
(Calendar on the right side)
Unit Specifications:
---
The LZC-ORG photoreactor is equipped with 10 lamps (5 on each side).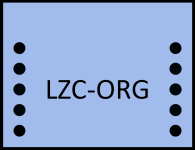 ---
Chamber Temperature: Maintained to 3-4 ºC above room temperature
---
Humidity: Must be between 0% and 95% (non-condensing)
---
Portable Carousel
Designed to accommodate samples in test tubes of up to 16 mm in diameter.
Diameter: 5"
Bottom plate height: approx. 2.5" above chamber floor
Can hold 16 tubes
Speed: 4 RPM
---
Magnetic Stirrer:
Speed: adjustable
Min speed: 100 RPM
Max speed: 1000 RPM
Max volume that can be stirred: 0.26 gallons (1L)
---