Research Fellow, Darwin College
Supported by the L'Oréal-UNESCO UK & Ireland Fellowship For Women In Science 2016
---
Research interests
My research focuses on innovative chemical detection technologies, opto-chemical analytical methods and spectroscopy-based techniques. It combines physics, chemistry, optics and nanotechnology to design and develop smart functional nano-materials, new hybrid-sensor technologies and nano-photonic devices that can be used for environmental, industrial and healthcare applications.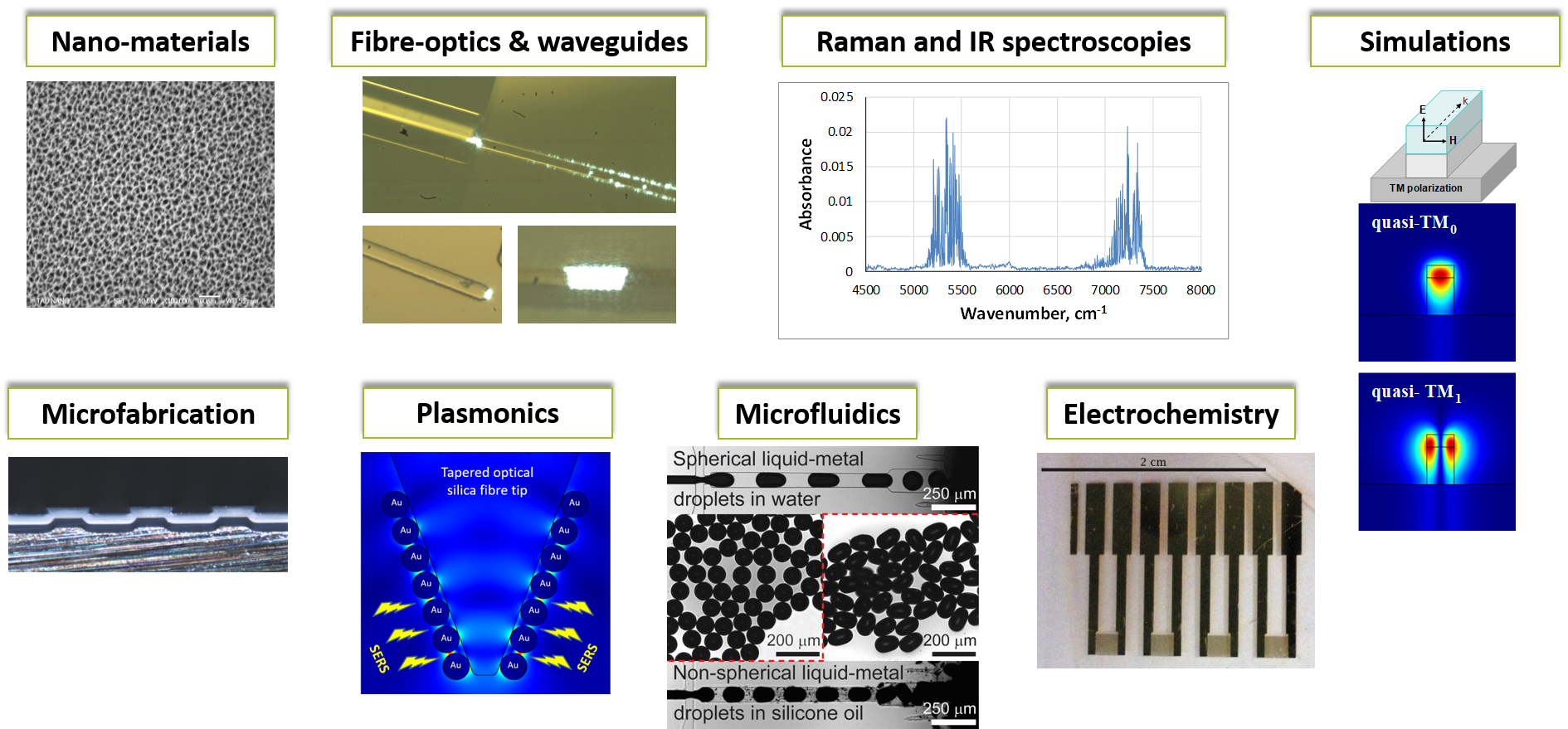 Keywords: chemical sensors, bio-sensors, nano-photonics, nanotechnology, micorfabrication, spectroscopy, microfluidics, waveguide optics.
Link to Google Scholar.
---
Current research projects and collaborations
Real-time sensor for acute brain injury: collaboration with the group of Prof Peter Hutchinson from the Division of Neurosurgery, Department of Clinical Neurosciences to develop a real-time sensor for monitoring of acute brain injury patients.   
Blood potassium sensor: close collaboration with Prof Fiona Karet from the Cambridge Institute for Medical Research to develop a low-cost kit for home testing of blood potassium levels.  Kidney patients and others can be endangered by very high potassium, with a small minority having the opposite problem of severely low potassium. In both cases, using a fingerstick blood sample and a small kit to immediately check potassium could improve management and safety in the home or healthcare setting, and identify potentially life-threatening levels. Visit the project website to find out more: www.mypotassium.com.
Optical devices and sensors for infrared spectroscopy: We are developing novel sensor technologies for applications in medical diagnostics, environmental monitoring and homeland security.  
---
Awards and Fellowships
2018: Best Talk Award at the 70th Gas Analysis and Sensing Group (GASG) Early Career Researchers meeting
2016: L'Oréal-UNESCO For Women in Science Fellowship UK & Ireland 2016.
2016: Royal Society of Chemistry Emerging Technologies Competition, third prize.
2015 - 2018: Stipendiary Henslow Research Fellowship for three years, Darwin College Cambridge.
2014: Innovation Forum business plan competition 1st place.
2014: Cambridge University Entrepreneurs £1k business plan competition.
2013 - 2014: University of Cambridge-Wellcome Trust Fellowship for Interdisciplinary Research.
2011: Corporate Associates Prize for practical class demonstration in recognition of outstanding qualities in the teaching of practical chemistry, Department of Chemistry, University of Cambridge.
2010: Messel Travel Bursary, Society of Chemical Industry.
2009 - 2013: Geoffrey Moorhouse Gibson Studentship in Chemistry, Trinity College Cambridge. Full oversees PhD scholarship for three years.                              
2009: Competition Award in Electro-Optics, Department of Engineering, Tel-Aviv University.
2009: Departmental Excellence Award, Department of Engineering, Tel-Aviv University.
2008: Intel Excellence Award for M.Sc. students, Intel Cooperation.
2008: Selim and Rachel Banin Excellence Award in Science and Engineering, Selim and Rachel Banin.
---
News
Nov 2018: Our blood potassium project won the One to Watch Award at the 2018 Cambridge Independent Science and Technology Awards
Sep 2018: Cambridge Independent article Accelerate@Babraham intake learns how to walk through walls
July 2018: Accelerate@Babraham picks eight finalists for new incubator
July 2018: Simple blood test kit for kidney patients moves closer
July 2018: Our blood-potassium kit team won the inaugural AstraZeneca Start-Up Competition and was named 'Best Healthcare Start-Up in Cambridge'. We will receive eight hours of mentoring from senior AstraZeneca MedImmune business executives, access to the Accelerate@Babraham bioincubator space for 1 month and free space on the Ignite programme at the Cambridge Judge Business School.
Jun 2018: The Gas Analysis and Sensing Group (GASG) May 2018 update with Tanya Hutter's photo receiving first prize for best talk.
Nov 2017: Women in Chemistry, Tanya Hutter.
Oct 2017: Chem@Cam news article.
Sep 2017: Dr Hutter's company, SensorHut Ltd, received 'highly commended' at Cambridge Independent's Science and Technology Award. 
Aug 2017: Article in Cambridge Independent about Dr Hutter's company SensorHut Ltd.  
May 2017: £500K translational funding bid success for development of a real-time brain chemistry sensor.
Dec 2017: Dr Tanya Hutter is featured in Chem@Cam Women in Chemistry article.
July 2016: Dr Tanya Hutter is featured in The Technology Partnership (TTP) newsletter inside:technology.
June 2016: L'Oréal-UNESCO Fellowship and RSC Prize for Dr Tanya Hutter.
June 2016: Dr Tanya Hutter was named as one of the UK's most promising female scientists at the L'Oréal–UNESCO ceremony for the 'Women in Science' programme.
June 2016: Dr Tanya Hutter wins prestigious Royal Society of Chemistry Emenrging Technologies Prize for a new gas-sensing technology.
---
Education
2009 - 2013: Ph.D. in Physical Chemistry, Trinity College and Department of Chemistry, University of Cambridge, UK.
2007 - 2009: M.Sc. in Materials Science and Engineering (Summa cum laude), School of Electrical Engineering, Department of Physical Electronics, Tel-Aviv University, Israel.
2003 - 2007: B.Sc. in Chemical Engineering, Ben-Gurion University, Israel.
---
Impedance-based sensor for potassium ions
Optical Fibre-Tip Probes for SERS: Numerical Study for Design Considerations
Tuning plasmons layer-by-layer for quantitative colloidal sensing with surface-enhanced Raman spectroscopy
Optical layout for the measurement of a porous silicon sensor array
– 2017 CONFERENCE ON LASERS AND ELECTRO-OPTICS EUROPE & EUROPEAN QUANTUM ELECTRONICS CONFERENCE (CLEO/EUROPE-EQEC)
Part F82-CLEO_Europe 2017,
Development of an open technology sensor suite for assisted living: a student-led research project.
Single Nanoparticle-Based Heteronanojunction as a Plasmon Ruler for Measuring Dielectric Thin Films
– The journal of physical chemistry letters
Near-Field Plasmonics of an Individual Dielectric Nanoparticle above a Metallic Substrate
– The Journal of Physical Chemistry C
PCB-integrated optical waveguide sensors: An ammonia gas sensor
– Journal of Lightwave Technology
Tunable Microstructured Surface-Enhanced Raman Scattering Substrates via Electrohydrodynamic Lithography
– Journal of Physical Chemistry Letters
Dynamic range enhancement and phase-ambiguity elimination in wavelength-interrogated interferometric sensor
– Sensors and Actuators B: Chemical