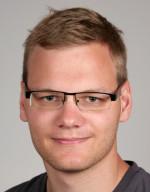 I am a Henslow Research Fellow at Robinson College, based at the department of Chemistry. I work closely with the Wales group, focussing on multifunnel energy landscapes associated with most proteins, as wells as RNA and DNA.
As these landscapes can be easily perturbed in nature by mutations, a way to understand these changes is available by computationally exploring the energy landscapes of various mutants for a given system.
These changes in the energy landscape are linked to shifts in the observed conformational ensembles, changed mechanistic pathways between ensembles, and other observable properties such as NMR shifts.
Newer avenues for this research include a novel design approach (via mutational basin-hopping), linking experiment and simulations, and the evolution of biomolecular landscapes.
Besides my research I am involved in various aspect of teaching. I currently supervise theoretical chemistry for second and thrid years, and lecture a third year theoretical chemistry course. I am a Fellow of the Higher Education Academy.